Mae angen caniatâd cyn perfformio neu recordio unrhyw ran o'r ddrama.


Manylion
The Royal Bed, by Siôn Eirian, an English language adaptation of Siwan by Saunders Lewis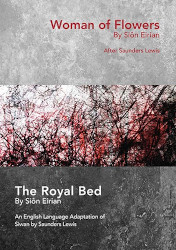 The Royal Bed is a short but epic drama by Siôn Eirian based on his 1993 English language adaptation of Siwan, by the renowned Welsh playwright Saunders Lewis, for BBC Radio 4.
All rights are strictly reserved.
Cymeriadau
Siwan
Alis
Gwilym
Llywelyn
Soldiers
Perfformiadau
With the support of the Welsh Government, the Arts Council of Wales and Curo Advisers Limited, The Royal Bed was commissioned by Theatr Pena and was a co-production with The Riverfront, Newport.
It was first performed at The Riverfront, Newport on 11th February 2015 with the following cast:
| | |
| --- | --- |
| SIWAN | Eiry Thomas |
| ALIS | Hannah O'Leary |
| GWILYM | François Pandolfo |
| LLEWELYN | Russell Gomer |
| SOLDIERS | Ian Buchanan |
| | Eirian Evans |
| | Richard Balshaw |
| TROBAIRITZ | Buddug Verona James (Voice) |
| | Delyth Jenkins (Harp) |
| Director | Erica Eirian |
| Assistant Director | Brenda Knight |
| Designer | Holly McCarthy |
| Lighting Designer | Kay Haynes |
| Sound Designer | Mike Beer |
| Musical Director | Buddug Verona James |
| Production Manager | Ian Buchanan |
| Stage Manager | Julie Towson |
| Assistant Stage Manager | Eirian Evans |
| Technician and Relighter | Dan Sawyer |
| Set Construction | Adjacent Education Project |
| Costume Supervisor | Deryn Tudor |
| Scenic Artist | Reva Callan |
| Design Assistant | Christina McConnell |
| Marketing Officer | Megan Merrett |
| Producer | Ceri James |