Saunders Lewis
add. Siôn Eirian

Mae angen caniatâd cyn perfformio neu recordio unrhyw ran o'r ddrama.


Manylion
Woman of Flowers, by Siôn Eirian, after Saunders Lewis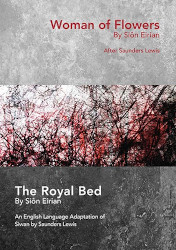 Woman of Flowers is a reimagining of the myth of Blodeuwedd by Siôn Eirian based on his 1992 translation of Blodeuwedd by the renowned Welsh playwright, Saunders Lewis.
All rights strictly reserved.
Cymeriadau
Blodeuwedd
Arianrhod
Gwydion
Llew
Rhagnell
Gronw
Perfformiadau
With the support of the Welsh Government, the Arts Council of Wales and Curo Advisers Limited, Woman of Flowers was commissioned by Theatr Pena and was a co-production with Taliesin Arts Centre.
It was first performed at Taliesin Arts Centre, Swansea on 1st February 2018 with the following cast:
| | |
| --- | --- |
| BLODEUWEDD | Sara Gregory |
| ARIANRHOD | Betsan Llwyd |
| GWYDION | Eiry Thomas |
| LLEW | Oliver Morgan-Thomas |
| RHAGNELL | Olwen Rees |
| GRONW | Rhys Meredith |
| Director | Erica Eirian |
| Composer | Peter Knight |
| Movement Director | Caroline Lamb |
| Designer | Holly McCarthy |
| Lighting Designer | Kay Haynes |
| Cameraman | Peter Firth |
| Video Editor | Dafydd Hunt |
| Creative Producer | Ceri James |
| Production Manager | Richard Balshaw |
| Stage Manager | Brenda Knight |
| Technician and Relighter | Jon Cox |
| Assistant Designer | James Horne |
| Costume Supervisor | Deryn Tudor |
| Set Construction | Telgwen |
| Marketing Officer | Megan Merrett |
| Audio Describer | Alastair Sill, Word of Mouth |
| Captioner and Operator, Cardiff | Erika James |
| Caption Operator, Mold | Stevie Burrows |